One Stop Shop Heel Pain Clinic (subject to availability)
Now available at First Trust Hospital and The Red Rose Healthcare, Bury.
Please ask for details. E mail: [javascript protected email address]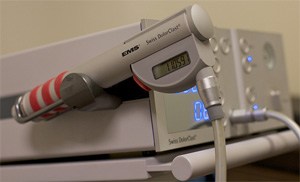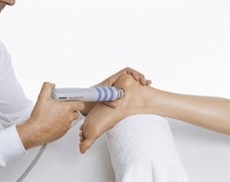 This state of the art non surgical treatment for tendon and muscle problems e.g Heel pain, Achilles tendon inflammation and others is now available at Lancashire Foot & Ankle clinic at First Trust Hospital only.
Extracorporeal Shock Wave Therapy (ESWT) is non-invasive procedure carried out in our Out-patients department for treatment of many painful physical disorders including plantar fasciitis or heel pain, achilles tendonitis and shoulder calcification. ESWT devices generate pulses of high-pressure sound that travel through the skin stimulating natural healing processes.

Its use has been approved by NICE (National Institute for Health and Clinical Excellence). Generally no anaesthetic or surgery is required. You will need a referral by your GP. Our Consultant orthopaedic surgeon will then assess and diagnose your condition before recommending shock wave treatment, if indicated. Generally 1-3 treatments at short intervals are recommended. Each treatment lasts no more than few minutes. The natural healing continues following treatment.
How does Radial Shockwave Therapy work?
The treatment initiates an inflammation-like condition in the tissue that is being treated. The body responds by increasing the blood circulation and metabolism in the impact area which in turn accelerates the body's own healing processes. The shockwaves break down injured tissue and calcifications.
What are the advantages with Radial Shockwave Therapy?
Radial Shockwave Therapy is applied without medication, for example Cortisone injections. The treatment stimulates and effectively supports the body's self healing mechanisms. It is usual to experience immediate pain relief following the treatment and hence improved movement. Reported side effects are minimal.
How long does each treatment last?
It takes approximately 10 - 15 minutes to administer between 2000 - 3000 shockwaves per treatment, as indicated.

Is the shockwave treatment itself painful?
Sometimes the treatment is a bit uncomfortable, but most people can tolerate this without medication or painkiller.
Will I be in pain after the treatment?
You will normally experience a reduced level of pain or no pain at all immediately after the treatment, but a dull and diffuse pain may occur a few hours later. This dull pain can last for a day or so and in rare cases a little bit longer.
What shall I do if I am in pain after the treatment?
Radial Shockwave Treatment initiates an inflammation-like condition in the tissue that is being treated. The body responds by increasing the metabolic activity around the impact area which in turn stimulates and accelerates the body's own healing processes. If necessary you may use ordinary prescription-free pain killers. Do not use anti-inflammatory medication and do not cool down the treated area both will interfere with the body's self healing abilities.

What if I am painless after the shockwave treatment?
Even if you have no pain we strongly recommend that you refrain from intensive activities that stress the treated area for the next 48 hours after each treatment.
What if the shockwave treatment doesn't work for me?
Even though the response to shockwave treatment normally is exceptionally good within a few weeks it may take several months before maximum effect is achieved. If after 3-4 months you till do not experience a significant improvement, other treatment eg surgery may be an alternative depending on your particular clinical picture.
Are there any contraindications or precautions that I should be aware of?
Yes.
Cortisone injections within the last month before treatment is initiated
Bleeding tendency and coagulation system disturbance with supporting medication(eg Warfarin)
Heart conditions and blood circulation disturbances
Acute inflammation in the treatment area
Cancer and pregnancy
Indications:
Tennis Elbow - Painful inflammation of the tendon attachment on the medial elbow.
Golfer's Elbow - Painful inflammation of the tendon attachment on the lateral elbow.
Shoulder Tendinopathy Especially Calcific Tendinitis - Painful limitation of shoulder movement due to calcification.
Trochanteric fasciopathy - Painful periostitis of the outer femur / hip
Trigger point treatment:
Jumper's Knee (Patellar Tendinopathy) - Inflammation of the point of attachment of the patellar ligament.
Shin Splints - Inflammation of the tibial edge due to excessive strain.
Achilles Tendinopathy - Painful irritation of the Achilles tendon.
Read NICE guidanceon use of ESWT for achilles tendinopathy.
Plantar Fasciopathy- Heel Pain. Painful, mostly chronic inflammation of the plantar fascia.
Read NICE guideance on use of ESWT for plantar fasciopathy.